What is a Lucky 31 Bet?
The lucky 31 is a 5 selection bet consisting of 31 bets: 5 singles, 10 doubles, 10 trebles, 5 four-folds and a five-fold accumulator.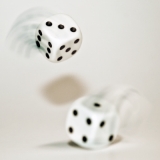 Named after its 31 parts and the wide variety of bookmaker bonuses to be had, the lucky 31 is a popular wager. 'All winners', 'one loser' and 'one winner' are the scenarios which most bookmakers apply a bonus to - each-way bets are usually excluded from this. Ask in shop or check the online terms and conditions to find accurate bonus listing.
The order in which bets appear on the slip is not important because each of the 5 selections appear the same amount of times across all 31 bets.
Winnings can be worked out by hand but using the lucky 31 calculator on this site takes much less time. Try out different odds, stakes and outcomes to get a feel for how returns are affected.
If one or more selections win this bet is guaranteed to generate a return.
Lucky 31 Composition
The lucky 31 is composed of the following parts:
Part
Selection Permutations (1-5)
Number of Bets
Single
1, 2, 3, 4, 5
5
Double
12, 13, 14, 15, 23, 24, 25, 34, 35, 45
10
Treble
123, 124, 125, 134, 135, 145, 234, 235, 245, 345
10
Four-Fold
1234, 1235, 1245, 1345, 2345
5
Five-Fold
12345
1
Total:
31
Last Update: 6th August 2019
Bookmaker Codes and Joining Bonuses
More Bonus Codes...
Also See
Lucky 31 bet calculator - Work out the returns on your 4 selection lucky 31 bet, factoring in bookmaker bonuses, dead heats, non runners and each way options. Fast and easy to use, just enter the details and your winnings will update automatically.
What is a lucky 15 bet? - Should you find only 3 preferred selections the lucky 15 is the way to go. A smaller cheaper bet that also has bonuses applied, albeit smaller than the lucky 31 and 63 alternatives.
What is a lucky 63 bet? - A 5 selection wager offering the biggest bonuses out of all the lucky bets. Learn about the composition of this wager and the different bonuses available.