What is a Double Bet?
A multiple bet consisting of two selections, both of which must win to gain a return.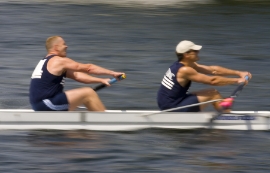 The double is a bet where two selections are made and if the first wins, everything that would have been returned is then used as stake for second. This style of bet is popular because it creates the potential for larger returns but at the expense of increased risk as all it takes is one losing selection for the bet to return nothing. Similar to the treble and accumulator the only difference being a lower number of selections. Each way and to-place only options are also available at some bookmakers.
Popular in all sports especially football and horse racing, all bets in a double must be on separate events.
Examples
Once familiar with the examples, use the double calculator to quickly work out winnings. The accumulator calculator can also be used to experiment with more than 2 selections.
The football scores in the table below are used to demonstrate winnings and losing example bets:
| Home Team | Score | Away Team |
| --- | --- | --- |
| Sunderland | 3 - 1 | Fulham |
| QPR | 4 - 2 | Chelsea |
Winning
Assuming a unit stake of £5 on Sunderland to win at odds 2/1 and QPR to win at odds of 3/1 the winnings would break down as follows:
Returns = £5 * (2/1 + 1) * (3/1 + 1) =

£60

Profit = Returns - Stake =

£55
Losing
Assuming a unit stake of £5 on Sunderland to win at odds 2/1 and Chelsea to win at odds of 4/1 the returns would break down as follows:
The bet of Reading to win has lost, therefore this bet returns £0
Profit/Loss = Returns - Stake =

-£5
Last Update: 6th August 2019
Bookmaker Codes and Joining Bonuses
More Bonus Codes...
Also See
Double bet calculator - Work out your double winnings by using this calculator. Supporting each way bets, perms, non runners and dead heats.
What is a treble bet? - A rollover bet with 3 selections. The page gives a detailed explanation using football examples to demonstrate winning and losing scenarios.
What is an accumulator bet? - A rollover bet with no limit on the number of selections. Also know as a parlay in the US, this wager is popular due to the potential to win big given a small outlay. The bread and butter of punting, all gamblers should be aware of what this bet entails.