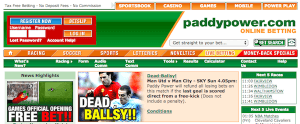 2004 Paddy Power homepage
Paddy Power was created in 1988 by three Irish bookmakers: Stewart Kenny, David Power, and John Corcoran. They merged their existing 40 shops to create the Paddy Power chain.
Paddy Power pursued an aggressive expansion strategy from the start. Opening shops in prominent locations in Irish towns to maximise its visibility. Its share of the Irish off course betting market grew from 8% in 1988 to 33% in 2001.
In 2000 Paddy Powers parent company, Power Leisure, floated on the stock exchange to fund further expansion into the UK, and they purchased PaddyPower.com to expand into the global online bookmaking market. In 2015 a merger between Paddy Power and British company Betfair was agreed which saw Paddy Power acquiring the Betfair brand. The resulting entity, Paddy Power Betfair, is based in Dublin.
Paddy Power have acquired a reputation for controversy which has gained them a lot of publicity. They have offered odds on controversial markets, such as the outcome of the Oscar Pistorius trial, which attracted so many complaints that the company was forced to cancel the bet and their advertising campaigns have also attracted controversy.
Paddy Power are official betting partners of Irish football team Shamrock Rovers and sponsored the 2018 Champions League of Darts.
Paddy Power were the first betting company to launch their own iPhone app in 2010 and for some time were the only bookmaker in the world available on the app store.