What is a Yankee Bet?
The yankee is a 4 selection wager consisting of 11 bets: 6 doubles, 4 trebles and a four-fold accumulator.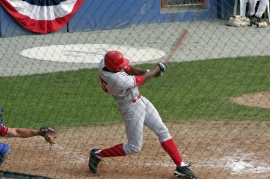 The yankee is rumored to be named after an American soldier that placed a small bet in the UK and due to the multiple roll-over mechanics at work won back hundreds of thousands.
This is a full cover bet where each selection appears in 3 doubles, 3 trebles and the four-fold accumulator. To understand how winnings change with outcome, stake size and odds most people prefer to use the yankee calculator, both before placing a bet and after the outcomes are known.
Two or more winning choices guarantees a return from this wager.
Yankee Composition
The yankee is composed of the following parts:
Part
Selections (1-4)
Number of Bets
Double
12, 13, 14, 23, 24, 34
6
Treble
123, 124, 134, 234
4
Four-Fold
1234
1
Total:
11
Last Update: 6th August 2019
Bookmaker Codes and Joining Bonuses
More Bonus Codes...
Also See
Yankee bet calculator - This calculator works out how much your wager returns by taking the odds of the 4 selections, performing the calculations behind the scenes and then showing the result in the summary section. Everything happen instantly so there is no waiting around.
What is a super yankee? - With an extra selection you can upgrade your bet to a super yankee. This article details the component parts and will help you gain an understanding of what it entails. 26 bets in total, your earning potential is increased significantly, along with your risk and initial outlay.
Super yankee bet calculator - Use this odds calculator to work out the winnings of your wager. Whether is an each way football bet covering the weekends action or a wager to encompass your horse race meeting, this tool provides everything you need.