What is a Union Jack Bet?
A bet on nine selections, consisting of between 8 and 80 bets depending on the type.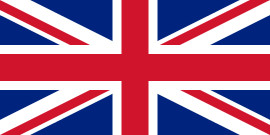 Named after the Union Jack due to the way groupings are determined, by laying out the selections in a 3 by 3 grid then drawing lines vertically, horizontally and diagonally to find 8 groups of 3. A benefit of this bet is it gives the punter scope to arrange their bets such that their most favoured selections have a greater bearing on returns than their least favoured. Position E appears in 4 trebles, positions A, C, G, I appear in 3 trebles and B, D, F, H only in 2. To work out returns or experiment with stakes and selection positions try one of the union jack calculators for trebles, trixies, patents, or round robins.
Bookmakers often make available special betting slips to place this type of wager laid out in the style of a Union Jack.
Types of Union Jack Bet
The grid is used to identify 8 groups of 3 by drawing lines horizontally (ABC, DEF, GHI), vertically (ADG, BEH, CFI) and diagonally (AEI, CEG). These groups of 3 are used in the Union Jack bets outlined below.
Last Update: 6th August 2019
Bookmaker Codes and Joining Bonuses
More Bonus Codes...
Also See
Union Jack Trebles calculator - Work out winnings using this free bet calculator.
Union Jack Trixie calculator - Calculate the payout of this 9 selection wager with the trixie betting tool.
Union Jack Patent calculator - Discover how much your patent bet returns using the odds calculator.
Union Jack Round Robin calculator - This popular horse racing bet can be calculated easily using the linked tool.