What is a Heinz Bet?
The heinz is a 6 selection wager consisting of 57 bets: 15 doubles, 20 trebles, 15 four-folds, 6 five-folds and a six-fold accumulator.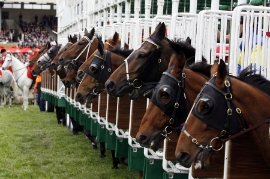 Named after the 57 varieties Heinz company slogan, this 57 bet wager is a full cover bet that combines every permutation of the 6 selections into a single wager. Each selection has the same effect on returns so the order in which they are added to the slip is inconsequential.
It would take a lot of time and be error prone to work out returns by hand so its best to use a heinz bet calculator tool after you understand the parts of this wager. Experimenting with different outcomes can also help in understanding how one or two losing runners affects returns.
When 2 or more selections win, a return is guaranteed.
Heinz Composition
The heinz is composed of the following parts:
Last Update: 6th August 2019
Bookmaker Codes and Joining Bonuses
More Bonus Codes...
Also See
Heinz bet calculator - Calculate your payout with this free, easy to use tool
What is a super heinz bet? - Similar to the heinz, just bigger. Learn all you need to know about the component parts of this 7 selection wager.
Super heinz calculator - Should you find yourself with an extra selection, taking the total to 7, then the super heinz may be the bet for you. All the same characteristics but clocking in at a huge 120 bets, this odds calculator performs all workings in an instant to determine how much the bookie owes you on your next visit. Provides the full range of options you would expect of the premier odds calculation website.