Visit our UK sign up bonuses site for casino, sport, poker and bingo offers. Find codes, no deposit offers, reviews, ratings and screenshots, all organised to get you up and running with your new account as quickly as possible. Should you decide to go for a free sports bet, why not use the calculator to determine your potential winnings.
30+ Bet Types And Options
Work out your returns with our free, easy to use and comprehensive betting tools.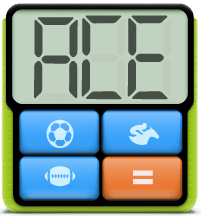 Whatever your wager, whether it's an accumulator calculator for the football or a horse racing calculator that can handle an each way bet. Handling lucky 15's, round robins, patents and trixies to name a few. Suitable for all sports and support: dead heats, non runners, rule 4 deductions, bookmaker bonuses, fold options and each way bets. Betting odds can be entered in fractions, decimals or american formats. If you have a request or want to leave feedback please contact us.
Learn the meanings of all the different betting terms used on this site by visiting the extensive help and glossary pages. With detailed explanations and examples of all concepts used, you'll be up to speed in no time.
Also try our more advanced dutching tool or the free bet calculator to work out the stakes required to maximise profits in any scenario. The best tool online that also factors in commission percentages so that you can optimise your stake across both bookmakers and exchanges.
Optimised for Mobile
Whether you're using a desktop in the office or a smartphone on the go, this website is optimised to deliver the best experience possible no matter what your screen size or performance profile. Options are organised so that bets can entered quickly and efficiently even when using the smallest of touch screens. Once loaded, pages require no internet connection to continue working, making the single page version ideal for offline use and low reception areas. Supports iPad, iPhone, android, windows and blackberry mobile devices.
You can learn more about the free iOS and android apps by following the respective links.
Fast
Bet winnings and selection odds are updated automatically so you don't have to waste time clicking when you could be collecting. When an option is not relevant to the selected wager it won't be displayed to make entering details faster and less confusing. We have taken every step possible to ensure each page loads quickly even in areas with slow broadband or poor mobile reception.